If you have one of the many types of arthritis and it causes you pain, it's tempting to avoid exercise and movement which could help relieve your symptoms and improve your quality of life.
Several studies have shown that regular gentle exercise can help ease the pain and stiffness associated with arthritis, while such an improvement in physical health is also linked to better mental health.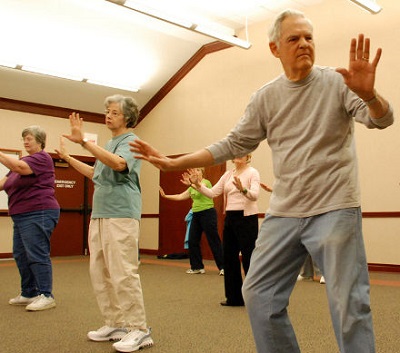 Various types of 'low-impact' exercise have been found to be effective, but among them 'yoga' and 'tai chi' are particularly beneficial. Both use structured gentle exercise to improve strength, flexibility and general fitness, while also including breathing exercises and aspects of meditation which can benefit mental health.
Yoga originates in India and combines specific body postures with breath control and simple meditation. Tai Chi is an ancient Chinese tradition which focusses on a series of movements performed in a slow and graceful manner, accompanied by deep breathing and meditation. Both have enjoyed a surge in popularity since the 1960s and are now widely practised for health and relaxation throughout the developed world.
Leading UK charity Versus Arthritis recommends both yoga and tai chi as effective ways to combat the symptoms of arthritis through regular gentle exercise. It cites a recent study published in respected medical journal "Restorative Neurology and Neuroscience". It found that eight weeks of regular yoga significantly improved the physical and mental health of people with rheumatoid arthritis and reduced the severity of depression associated with the condition.
Lisa Muehlenbein, a therapeutic specialist at Yoga Medicine, explained: "I notice that the pain in my knees and wrists decreases following my yoga practice. This is because yoga gets the synovial fluid flowing in the larger joints, allowing smoother movement and creating a greater range of motion and increased flexibility."
Looking at the mental health aspect, Silvia Laurenti, senior physiotherapist and yoga therapist at the Minded Institute, explained: "By learning simple movements, people feel empowered and more confident, and conditions such as depression might lift a little."
Yoga and tai chi can be particularly beneficial for people with osteoarthritis – the most common type, often called 'wear and tear arthritis'. The physical postures in yoga and the gentle fluid movements of tai chi can both increase strength and flexibility and help manage the pain of arthritis flare-ups.
Similarly, with rheumatoid arthritis, yoga and tai chi can be used to maintain strength and flexibility when the condition is stable. As muscles are stretched, tension that is caused by lack of movement is also released. The exercises also promote better awareness of balance and precise, focussed movement, helping reduce the risk of falls and the serious complications they bring.
Several studies have found that aerobic and 'mind-body' exercise techniques such as yoga and tai chi are useful for people with osteoarthritis in the hips and knees. They can contribute significantly to a pain management programme, which in turn helps combat sleep disturbance and mood disorders.
A qualified and experienced instructor can tailor the level of yoga or tai chi exercise to your abilities, closely monitor your progress and make changes as you progress from complete beginner to more advanced practitioner. Your local GP surgery, health centre or leisure centre might have details of classes in your area, or you could search online. You can also find qualified yoga and tai chi instructors in your area by visiting the British Wheel of Yoga at www.bwy.org.uk or clicking on the following links: The Tai Chi Union for Great Britain; Tai Chi for Health Institute.
• Remember, while gentle, low-impact exercise can help alleviate the pain and symptoms of many mobility-related conditions, you shouldn't use the stairs in your home for exercise. A trip or slip on the stairs can have disastrous consequences.
If you have difficulty climbing the stairs, or if coming down the stairs jolts and jars painful inflamed joints, Acorn Stairlifts can help. Installed within days of your inquiry, an Acorn Stairlift enables you to glide smoothly up and down the stairs in your home in safety and comfort. The energy you save will also help you exercise in a safer and more beneficial way. To find out more, call us today on Freephone 0808 223 4871 or click on the 'free brochure' or 'free quote' buttons at the top right of this page.