A new feature length drama from the BBC is set to screen this Sunday, starring Glenda Jackson as an 80-year-old woman battling dementia and the scepticism of others while trying to solve a mystery.
"Elizabeth is Missing" is adapted from Emma Healey's bestselling 2014 novel of the same name and focuses on Maud – a woman struggling with dementia who must attempt to piece together what has happened to her best friend Elizabeth.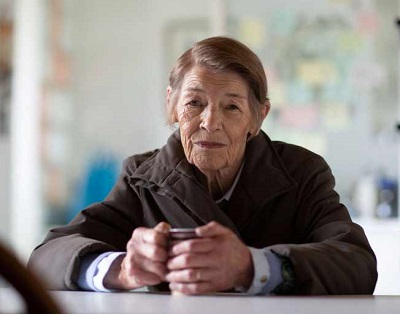 When Elizabeth goes missing, Maud is convinced something terrible has happened and sets out to solve the mystery, all the while fighting against time as her dementia worsens. As Maud becomes more forgetful, distinctions between past and present start to blur and wonders whether the mystery is connected to the disappearance of her own sister 60 years earlier.
Advance screenings of the drama have garnered praise for its searingly honest portrayal of dementia, achieved in part by the production team working closely with leading British charity Dementia UK. As the profile of dementia in the arts continues to grow, the charity's specialist Admiral Nurses are regularly asked to support production teams for theatre, film and TV on how to accurately portray dementia.
Writing on the Dementia UK website, Dr Karen Harrison Dening talks about her involvement with the BBC drama and how it helped shape Glenda Jackson's striking portrayal of Maud:
"The film and book have two main thrusts; it is essentially a 'murder mystery', but played out through the eyes of a person with dementia. It skilfully weaves us through the altered reality of a person with dementia as they grapple with the present day and the effects of living with dementia with the memories and emotions that call from their past.
"Having already read 'Elizabeth is Missing', this request sparked my interest – even more so when I learnt that Maud would be played by Oscar-winning actor and former Labour MP, Glenda Jackson. I arranged to read the script, and a meeting with Glenda and the production team was arranged. We discussed how and why Maud might have reacted to certain situations."
After attending the film's premiere in London at the end of November, Dr Harrison Dening said she was impressed with the end result:
"The character of Maud was probably one of the most honest and accurate portrayals of a person with dementia that I have seen. There was humour laced in at times, which gave the character and context authenticity. There was no Hollywood glitz, but a sense of 'everydayness' and a tangibility to her character that many families affected by dementia will be able to recognise and relate to.
"Parts that stood out for me included the close bond that Maud has with her granddaughter. Often we consider the relationship between the person with dementia and their most direct carer, often a spouse or adult child. What we witnessed in this grandmother-granddaughter relationship was an unconditional acceptance and love, with an empathy that was very moving.
"The second most memorable part was when Maud, sitting at the bus stop, was approached by her daughter, Helen, but did not recognise her as such and the resulting conversation was one you would have expected her to have with a stranger. Helen was aware that her mother had failed to recognise her and was very visibly distressed.
"Indeed, as Admiral Nurses we counsel many family members on this very upsetting loss of recognition. As Helen turned back to face her mother, Maud became immediately aware that it was, in fact, her daughter and became distraught that she had failed to recognise her. This was an incredibly touching and poignant part of the film.
"I feel very proud and yet humbled at the same time to have played a part in this outstanding and sensitive portrayal of what it might be like to live with dementia."
• You can see "Elizabeth is Missing" this Sunday (December 8th) on BBC One from 9 to 10-30pm and watch a trailer for the drama by clicking here.