Living with a long-term health condition can be tough and while many people develop their own ways of coping, there are also services and charities which provide practical and emotional support.
Long-term health conditions are ones that can't be cured, but can be managed with medication, lifestyle changes or other treatments. Some examples include arthritis, diabetes, high blood pressure, dementia and some forms of depression. Anyone can have a long-term health condition, but many are age-related and they become more common as we grow older.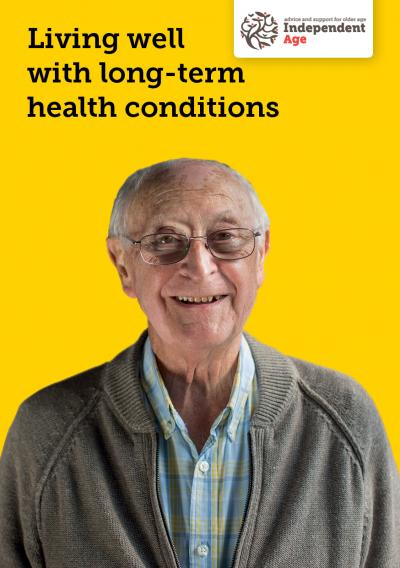 Long-term conditions can relate to your physical or mental health, and there is often a good deal of overlap between the two. They can impact on things like your mobility and daily routine, your confidence and mood, and might mean significant changes in your lifestyle generally. Conditions affect people differently and can vary in severity or have flare-ups punctuated with periods of remission.
It's important not to try and cope alone. While self-care is an important part of managing a long-term condition, there is also a raft of help and advice available from sources including your own GP and other healthcare professionals, specialist services and charities. For example, for anyone living with diabetes, the website of national charity Diabetes UK is an invaluable source of help and advice. Similarly, if you're coping with arthritis, the charity Versus Arthritis has an information-packed website and a confidential helpline on 0800 5200 520.
Bringing together all this information on where to find help, support and advice is another national charity – Independent Age. It has produced an easy-to-read and extremely useful 48-page guide to "Living well with long-term health conditions". You can read it online, download a copy or request one in the post by clicking here or calling the charity's free helpline on 0800 319 6789.
The guide is split into six sections on how your condition might affect you; coping with challenges; how you might be feeling; getting the most out of medical appointments; where to find support; and ways to help yourself. Crucially, it has been put together by speaking to people actually living and coping with a range of long-term health conditions and who share their experiences, tips and advice throughout the booklet.
For example, one contributor comments: "I had a heart attack nine years ago. I think when you have something like that it knocks your self-confidence because you think you are invincible until it happens and then you suddenly think, whoa!". Another advises: "I think sometimes it is mind over matter. You get up and you think, oh I can hardly walk, but then you do."
Subjects covered in the guide include managing pain and medication, coping with multiple conditions and potentially conflicting advice, preparing for medical appointments, becoming an 'expert patient', coming to terms with your condition, staying informed and making changes to your lifestyle. The booklet also includes information on where to find further help and support for a wide range of long-term health conditions.
• Independent Age has produced a library of free guides and factsheets covering all aspect of getting older. They don't just focus on health, but also on money matters, future planning, housing, accessing benefits, support and care and personal life. You can see the full list and download as many as you like for free by clicking here.