This week (February 3rd to 9th) is National Apprenticeship Week – a government initiative celebrating the achievements of apprentices in all areas of industry and business and encouraging employers to use apprenticeships to build a skilled workforce for the future.
Acorn Stairlifts began offering apprenticeships in 2015, initially in office-based roles at our headquarters in West Yorkshire, and then in engineering roles in our UK factories. Since then a number of young people have taken the apprenticeship route with Acorn, and continue to do so in a variety of rewarding roles.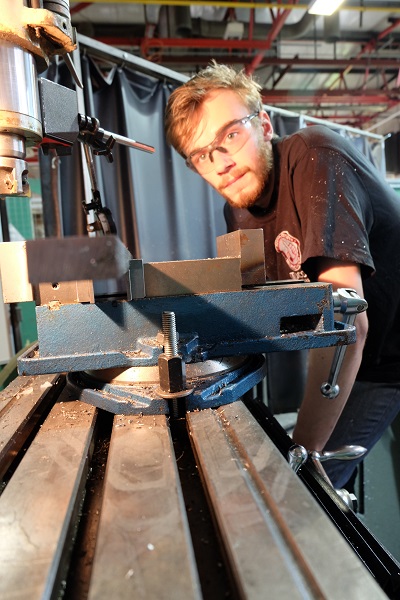 Aimed at young people aged 16 to 24, apprenticeships are an increasingly popular option and an alternative to taking out a Student Loan to cover the cost of further education. They provide an opportunity to learn directly applicable workplace skills 'on the job' while working towards recognised qualifications, earning a wage and taking first steps on the career ladder.
Acorn's first factory-based apprentice was Archie Booth, who joined the company at 18 after studying engineering at nearby Keighley College. Something of a trailblazer, and a popular member of the manufacturing team, Archie is now nearing the end of his four-year Advanced Apprenticeship in Mechanical Engineering.
Along the way he has acquired a wide range of specialist engineering skills, and boosted his CV by achieving National Vocational Qualifications (NVQ) Levels 2 and 3 in mechanical engineering. As well as practical skills, Archie's apprenticeship has involved a good deal of studying, requiring discipline on his part.
"You have to be prepared to work hard, but it's worth it in the long run," said Archie, adding that his advice to other young people considering an apprenticeship would be to "start as soon as you can".
Speaking about his work with the manufacturing maintenance team at Acorn, Archie said: "It's varied, you don't do the same thing every day, and we have a good laugh."
One of the highpoints of his apprenticeship has been designing a new set of jigs used to make hinges for a straight stairlift rail, with Archie's innovative work directly benefiting customers who buy an Acorn Stairlift for a straight staircase.
As the completion of his apprenticeship draws near, Archie has no plans to stop learning on the job and advancing his career with Acorn: "I plan to stay with Acorn and do Higher National Certificate (HNC) and Higher National Diploma (HND) courses," he said.
• For more information about National Apprenticeship Week 2020, click here, and for more about careers with Acorn Stairlifts, including apprenticeships, click here.
Archie Booth is pictured at an earlier stage of his four-year Advanced Apprenticeship in Mechanical Engineering, which is now nearing its completion.