If you're thinking of investing in an Acorn Stairlift to eliminate the daily struggle of stairs in your home and improve your quality of life, you will doubtless have a few questions.
Here at Acorn, we understand that opting for a stairlift can be a big change in people's lives, though it needn't be a difficult one. In our experience, it's also a decision you won't regret; the one comment we hear all the time from satisfied Acorn customers is: "I only wish I'd done it sooner".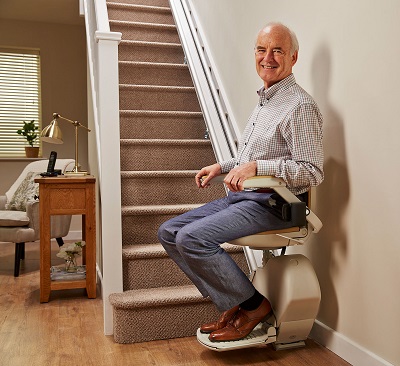 If you're making that decision and have questions to ask, the best way to start is by giving us a call on Freephone 0808 223 4871 to speak to one of our friendly and helpful stairlift advisors. In the meantime, here are five of the most frequently asked questions:
Will my stairs accommodate an Acorn Stairlift? The answer is almost certainly 'yes'. Acorn builds, supplies and installs around 70,000 stairlifts per year and it is very rare indeed that we come across a staircase that defeats us. Most people worry that their stairs are too narrow, but Acorn Stairlifts are designed to be extremely slim, with seats, armrests and a footrest that all fold up neatly when not in use. Our stairlift rails are also slim and unobtrusive and fix to the staircase, not the walls. For curved staircases our pioneering FastTrack® modular rail system is extremely versatile and flexible, capable of providing bespoke stairlift solutions in almost all settings. If you have an odd or unusual staircase and think no-one could fit a stairlift to it, we can confidently say: "If anyone can, Acorn can".
How much will an Acorn Stairlift cost? Since no two staircases are exactly the same, it's impossible to give a 'standard price'. What we can tell you though, is exactly how much your own tailor-made Acorn Stairlift will cost, with no hidden extras or unexpected add-ons. The way we do this is through a completely free, no-obligation home visit by one of our experienced Acorn Stairlift surveyors, based all around the UK. Our surveyor will first ask about your individual needs, then precisely measure your staircase. Only then can we recommend the ideal solution for you and your home, and provide a comprehensive all-inclusive quote for the work. We won't pressurise you and your quote is valid for a year, giving you plenty of time to decide. We firmly believe our award-winning British-made Acorn Stairlifts offer the best value for money on the market.
How quickly can an Acorn Stairlift be installed? Some of our customers need a stairlift urgently, perhaps after a fall or returning home from a stay in hospital. In the past it could take several weeks to design, build, ship and install a one-off stairlift rail – especially for a curved staircase – and with some stairlift companies it still does. Acorn can fit your stairlift within a few days of your first contact, even for curved stairs, and in cases where urgency is paramount, we can often fit next day. Our innovative FastTrack® system for curved staircases means a bespoke stairlift rail is expertly assembled on site from a library of interlocking stair rail sections. It has slashed the waiting time for a curved stairlift rail and means Acorn can offer unbeatable installation response times.
Will I be safe on my stairlift? All Acorn Stairlifts are independently tested to meet or exceed all current and relevant safety standards. Because we sell our British-made stairlifts in more than 80 countries worldwide, we ensure that we meet the quality and safety standards in all those territories. More than 20 people work in the quality assurance department of Acorn Stairlifts' factory in Scotland, where our stairlift carriages are assembled. Each one is checked 29 times for quality and safety during and after the building process, and Acorn Stairlifts are tested to a minimum of 25,000 return journeys, the equivalent of 11 years' use assuming six return journeys each day. Finally, our installer will complete a 37-point safety and function checklist and make sure you are completely confident in all aspects of using your stairlift before leaving you with it. In the rare event that something does go wrong, help is just a phone call away, seven days-a-week, 365 days-a-year.
What about ongoing costs? Acorn Stairlifts have very low running costs due to the powerful rechargeable batteries fitted as standard. They mean the stairlift isn't constantly draining power when not in use, but only 'topping up' the batteries as needed. Battery power also means your Acorn Stairlift will continue to operate if there is a power cut. We recommend an annual service for your stairlift. Like any machine with moving parts, it benefits from regular routine maintenance by one of our skilled service engineers to ensure optimum trouble-free performance for many years to come. Every new Acorn Stairlift comes with a comprehensive 12-month warranty, which includes your first service. Beyond that we offer a range of extended warranties and annual service agreements as the most cost-effective way of making sure your stairlift is regularly and professionally maintained to keep it in tip-top condition.