Steeton AFC, the local football club sponsored by Acorn Stairlifts, is moving to a new home ground from the beginning of next season.
Founded in 1905, the club played its home matches for much of its long history at the Doris Wells Memorial Field in Steeton, just a stone's throw from Acorn's head office and factory. In 2016 Acorn became the club's main sponsor in line with our policy of feeding back into the communities which have helped nurture our growth.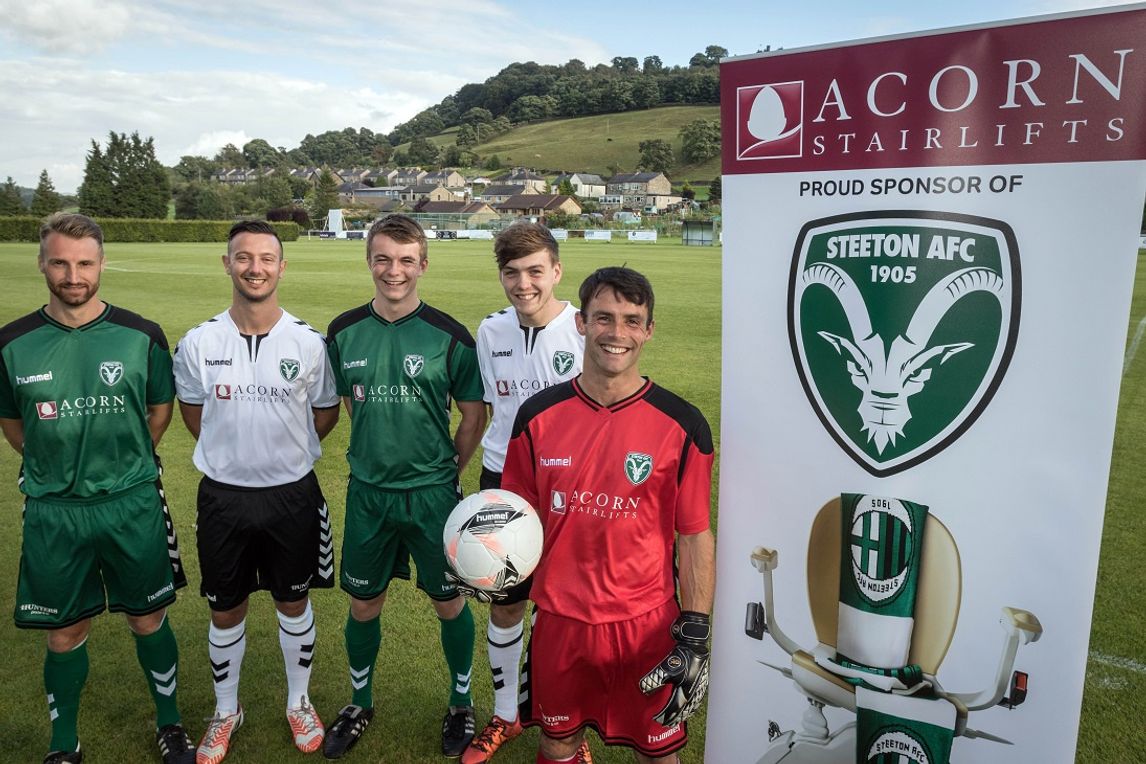 Under the deal, Acorn is the club's key sponsor, our logo appearing on the first team and reserve team matchday kits and training tops. We also advertise on hoardings at the club's grounds and in matchday programmes.
In 2018 Steeton AFC's first team won promotion to the North West Counties League Division One North, capping of a superb season in which they won the West Riding County Premier Division League Cup as well as lifting the Keighley & District FA Challenge Cup. While good news for the club, it also meant moving to a ground with facilities which met Football Association (FA) criteria.
The temporary solution was a tie-in with local rugby league club Keighley Cougars, who also have Acorn Stairlifts as their principal kit sponsor. It enabled Steeton to play home games at Cougar Park, just down the road in Keighley, but although it has worked well, it's not ideal. For example, it means that after each football match, the ground has to be converted back to use for rugby league, and vice versa, changing the goal posts and re-marking the pitch.
Both clubs are also looking to develop new teams, which would put unsustainable demand on the Cougars' pitch. So now Steeton are planning another move, this time to the Marley Activities and Coaching Centre, also in Keighley. The council-owned facility is seeing significant investment in improved facilities designed to encourage local participation in a range of sports.
They include a new synthetic all-weather 3G pitch, new LED floodlighting and home and visiting team dugouts. The move to Marley is a partnership between Bradford Council and Steeton AFC, with the council funding some of the improvements and the football club also doing its bit, including providing covered spectator stands, pay box turnstiles and hospitality facilities.
The work must be completed by March 31st for the new home ground to meet FA standards and be approved as a venue for North West Counties League matches. Steeton AFC chairman Pete Jeffrey said: "We're extremely grateful to Bradford Council for making this possible in such a short space of time and hope to make this a successful partnership for the long term.
"This is an exciting time for the club as we can finally put down some secure roots and really focus on growing the club both on and off the pitch. We know we've a lot of work to do over the coming weeks. We really do need to engage with local businesses and will need their help and support to ensure we have a facility that meets FA criteria."
First team manager Roy Mason added: "I'd like to pay tribute to our group of unpaid volunteers who've put an amazing amount of time and effort into not only ensuring the club is playing at the highest level in its history, but also worked tirelessly behind the scenes to make this project happen.
"I also want to than Acorn for your valued support of Steeton AFC – without people like you our club simply wouldn't exist."
• To find out more about Steeton AFC you can visit steetonafc.co.uk and if you can offer any help with the move to Marley, email club chairman Pete Jeffrey at: pjeffrey@dobsongasket.com