For some people, pain in the knees, hips or even back can make it difficult, uncomfortable and even dangerous to climb the stairs, but it can also make it difficult to sit in a conventional straight-backed chair.
For these people the stairs in their home pose a double dilemma: they are troublesome to use on foot without assistance, but a conventional stairlift would not help because they are unable to sit easily on the carriage seat.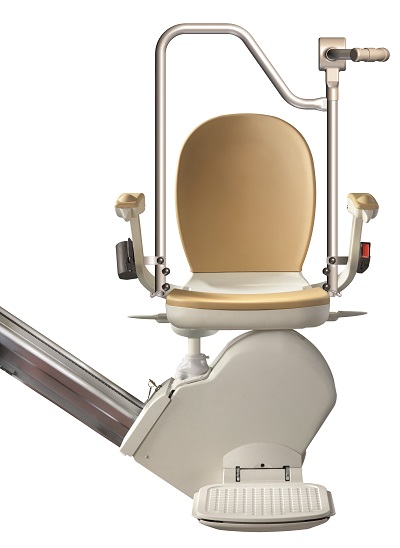 Thankfully, as with most stair-related dilemmas, Acorn offers a practical and affordable solution. The Acorn Sit-Stand Stairlift really does what its name suggests, allowing users to either sit or stand while being carried smoothly and safely up or down the stairs in their home.
People who find it difficult or uncomfortable to sit can instead stand on the carriage's sturdy and non-slip fold-down foot platform, while the seat remains in the folded up position out of the way. Extra support is gained by holding onto the robust additional handrails fixed securely to the stairlift carriage.
The stairlift can then be operated using the ergonomic paddle controls placed on the stairlift arms, or by using a remote control, two of which are supplied as standard with every Acorn Stairlift. You'll need to work out the best way for you to keep a steady grip on the grab rail with one hand while operating the paddle or remote control with the other. Alternatively, you could hold the grab rails with both hands while someone else operates the stairlift for you using the remote control.
Because all Acorn Stairlifts are designed to set off and come to a halt smoothly, without any sudden 'jolt' or 'judder', and to run at a steady even pace up and down the stairs, standing on the foot platform and holding onto the secure grab rails remains a very safe option. If necessary, small modifications can also be made to the stairlift rail at the top or bottom to ensure the stairlift delivers you to a safe and level point for simply stepping on and off.
The Acorn Sit-Stand Stairlift really comes into its own in a setting where more than one person needs to use a stairlift but their physical needs differ. Imagine you need a stairlift but struggle to bend at the knees, while your spouse also needs help with the stairs but can use a stairlift in the more conventional seated position. The Acorn Sit-Stand will meet both your needs perfectly in one versatile package.
Furthermore, because our Sit-Stand model is a simple but effective modification to our standard stairlift carriage, the cost is kept to a minimum. The only non-standard parts needed are the bolt-on extra handrails for additional support – meaning a significant saving in manufacturing cost which we pass on to you, the customer.
As with all our stairlifts, the footrest, seat and armrests of the Sit-Stand model all fold up neatly, minimising the amount of space it takes up when not in use, and allowing other family members or visitors to use the stairs without hindrance.
The most effective solutions are often the simplest, and we've found our Sit-Stand model is just that. It combines all the great features found on every Acorn Stairlift with an uncomplicated, unintrusive and cost-effective modification which makes it the ideal solution for those who find sitting difficult.
If you thought a stairlift wasn't for you because you can't sit in comfort, think again… think Acorn!
• For more details of our full range of Acorn Stairlifts or to arrange a free, no-obligation home survey and personalised quote, call today on 0808 223 4871 or click on the green 'Quick Free Quote' button at the top right of this page.