A crowdfunding campaign to buy a stairlift for a Black Country teenager came to an early close when managers at Acorn were so moved by her story that they offered the lift for free.
Now 17-year-old Lily Smith has been able to go upstairs for the first time in more than a year and is excitedly planning a makeover of her old bedroom, which she longed to move back to. It also means her caring parents, Vicki and Ned, can move back upstairs after sharing the cramped downstairs bedroom for more than five years in case Lily needed help in the night.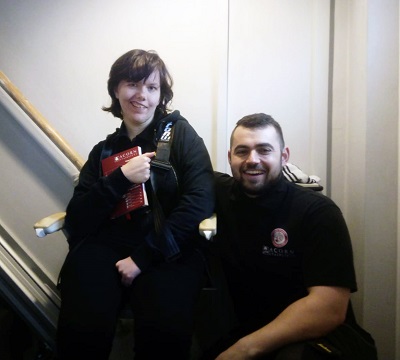 Lily first started having seizures as a seven-month-old baby, but by the time she was in her teens they were happening up to 15 times a day. Coming without warning, they caused Lily to suddenly collapse to the floor, meaning that using stairs, even with help from her parents, was out of the question.
Instead they converted the ground floor bedroom for Lily at their home in Cradley Heath, near Dudley, and gave up their own bedroom to be with her at night. Meanwhile Lily has undergone three brain surgeries in a bid to halt the debilitating seizures. The latest and most radical was a 'hemispherotomy' – an operation to effectively disconnect the right side of her brain.
It has significantly reduced the number of seizures so that she now has only one or two during her sleep each night, but it also left her with only 50% vision and significant weakness down her left side A programme of intensive 'neuro rehab', teaching Lily's brain to work differently, should gradually improve her mobility, but it's unlikely she'll be able to use the stairs safely.
The solution was a stairlift and in a bid to make it happen Vicki launched an online crowdfunding campaign to raise the money. One of the firms she contacted for a quote was Acorn Stairlifts, but when we heard Lily's story we surprised Vicki by offering to donate and install the stairlift for free in just a few days' time.
"It's been absolutely amazing!" said Vicki. "People have been so generous with donations to the crowdfunding, but when Acorn offered to fit the stairlift free of charge we couldn't believe it. We just wanted Lily's life to be the same as everyone else's – just a normal teenager with her own bedroom – and now it's happening."
Lily's already making good use of her new Acorn Stairlift, visiting her bedroom to plan a complete makeover using the leftover money from the crowdfunding appeal. It also means her parents can get their own upstairs bedroom back. Being next to Lily's room, they'll leave the doors open so they can easily hear if she needs help in the night.
"It's going to mean such a positive change for all of us," said Vicki. "Since Lily was small I've either slept on her bedroom floor or in our bed in her room, but now we can get back to some kind of normality. It's out of this world."
Acorn's customer relations manager Catherine Beecroft said: "Lily's is such a moving story and I'm glad we've been able to assist the family. Even our installer, Joe Stevenson, after meeting Lily wants to donate his bonus for the job to fund the revamp of her bedroom."
Lily is pictured trying out her new stairlifts with Acorn installation engineer Joe Stevenson.