No matter how serious or life-threatening the crisis or how much the nation pulls together to overcome it, it seems there's always a small minority of unscrupulous, despicable people prepared to exploit it for their own illegal ends.
Police forces across the country are currently reporting a spike in thefts of packages left in 'safe' or communal areas by delivery drivers, for their rightful owners to collect.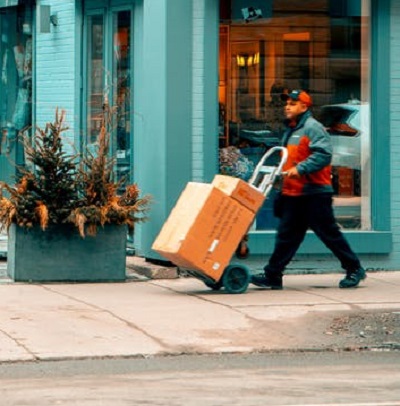 Because of the coronavirus lockdown and strong advice to stay at home, more of us are turning to online shopping, with goods delivered to our doors. Also because of the advice to avoid direct contact, many deliveries are being left on our doorsteps, in porches or gardens, or in designated 'safe' communal areas such as building receptions or hallways.
Yet many of the people expecting deliveries come out to find their parcel not where it should be. Instead it's been stolen by opportunistic thieves, or even organised gangs. In some cases, police believe that thieves in cars and vans are covertly following delivery drivers and watching out for packages left outside for collection, before swooping in to steal them.
The big delivery companies, such as Amazon, Hermes, Yodel, Parcelforce and Royal Mail, have their own protocols for deliveries during the coronavirus outbreak. Their delivery drivers are in a difficult position; they must ensure their own safety and that of their customers first and foremost, but must also have consideration for the safe delivery of the products they're delivering. They're also struggling with higher than normal workloads due to the crisis.
For now, police are employing new techniques to catch people stealing parcels, and offering advice to anyone expecting deliveries. It particularly applies to people living in shared accommodation with communal areas where parcels might be left, such as blocks of flats or sheltered housing complexes. The advice includes:
Ensure that all communal external doors are secure and not propped open
Challenge anyone wanting access without a legitimate reason
Check if your delivery company offers the option to leave a phone number and receive a text as soon as your parcel has been delivered. If it does, use it
Try to obtain a precise delivery timeslot. This isn't always possible, but some companies will send a text when yours is the next delivery due to be made
Ask landlords to help by providing secure internal storage areas where parcels can be safely left
If you're ordering high value goods, do all you can to be there when your parcel is delivered, but follow the social distancing guidelines
Keep a watch out for your delivery arriving and even if you don't want to meet the delivery driver at the door, you can collect it as soon as possible
Be vigilant and look out for each other.
If you witness the theft of a parcel, or are the victim of a theft yourself, you should report it to the police in the usual way.