A rallying cry for volunteers to help support the NHS through the coronavirus crisis resulted in more than 750,000 people signing up in just four days – three times the original target.
Among them was a team of Acorn Stairlifts engineers, stationed throughout the UK. They will be helping out as NHS Transport Volunteers, carrying equipment, supplies and/or medication between NHS services and sites, and possibly helping pharmacies with delivering medicines to patients who are isolating.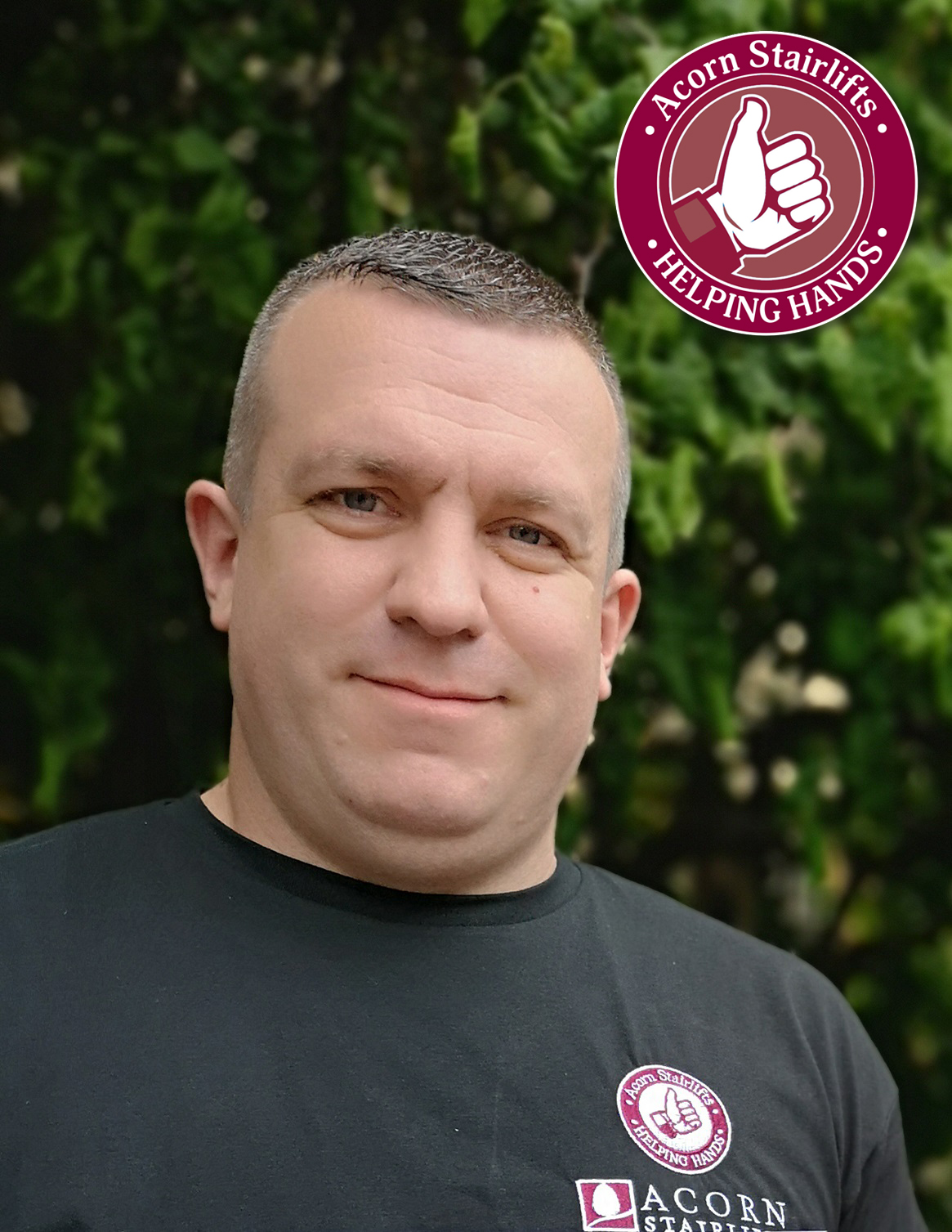 The Acorn engineers – Mark Grice (pictured), Jarrod Jackson, Dale Lightfoot, Peter Bunker, Steven Morgan, Stephen Norton and Seth Thompson – usually spend their time installing and maintaining our stairlifts throughout their allotted regions.
As part of the medical and social care supply chain, Acorn continues to operate during the crisis. With people isolating at home, it's vital for those who rely on our stairlifts to know we're here if they need us. We're also installing new stairlifts where there's an urgent and compelling need, such as for people discharged from hospital to recover at home, but who can't manage the stairs.
Providing this crucial safety net service throughout the crisis is our number one priority, but our engineers felt they could use any available 'downtime' between jobs to help out. So when the call came for a 'volunteer army' to support the NHS, they jumped at the chance.
With the full blessing of Acorn Stairlifts, they've signed up as NHS Volunteer Responders and will carry out tasks allocated to them as and when needed, while still providing stairlift callout cover for their areas. They can also use their company vehicles in their new Transport Volunteer roles.
As employees visiting customers' homes, all our engineers are already cleared by the Government's Disclosure and Barring Service (formerly known as 'CRB checked'), making them ideal for their NHS volunteer roles, which require similar checks. They also carry their own PPE (Personal Protective Equipment), including disposable gloves, hand sanitiser and anti-bacterial wipes.
People who signed up as NHS Volunteer Responders, began receiving their first tasks this week and will continue to do so for as long as they're needed during the coronavirus outbreak. Volunteers can access a 'GoodSAM' mobile phone app and simply switch their status to 'on duty' whenever they're available. They're then allocated tasks in their area, letting controllers know when the job's done.
Commenting on the huge response to the appeal for volunteers, Health Minister Matt Hancock said: "I want to thank every single person who signed up to be a NHS Volunteer Responder.
"Their incredible generosity means we can now start helping those most in need across our communities and, in turn, support our heroic NHS staff and social care staff as they continue their outstanding work. Coronavirus is one of the greatest challenges our country has faced and it is truly awe inspiring to see our whole nation coming together to help each other at this difficult time."
Recruitment for NHS Volunteer Responders is temporarily paused while the first wave of 750,000 recruits is processed. You can find out more by clicking here.
Our picture shows Mark Grice, one of the seven regional Acorn engineers to sign up as an NHS Volunteer Responder.