Coronavirus has brought much of the world to a virtual halt, but life goes on and if you find you need a stairlift, whatever the reason, Acorn Stairlifts is still here for you.
For some people, getting a home stairlift is a gradual process; one of finding the stairs increasingly difficult, then taking time to weigh up the options before taking the plunge. But for others there's a sudden and urgent need for a stairlift, perhaps following an accident, illness or medical procedure.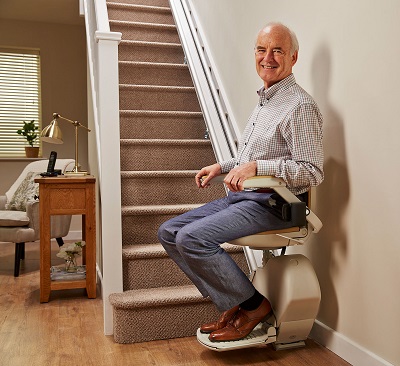 It's in this second groups that Acorn has become a clear industry leader, able to install our British-made stairlifts within a few days of an enquiry, even next day where urgency is paramount. Thanks to our industry-changing FastTrack® system, that's even true for more complex staircases with curves, bends or landings.
FastTrack® enables our skilled engineers to assemble a bespoke stairlift rail on site from a library of ready-made rail sections, rather than waiting weeks for a one-off rail to be manufactured in a factory and transported to your home.
This unrivalled speed of installation has proved invaluable during the coronavirus pandemic. We've installed numerous stairlifts for people who've been discharged from hospital earlier than they normally would have been, to free up beds and ease pressure on the NHS. This can only happen if they can be discharged safely, in the knowledge that they'll be able to manage at home, and that includes managing the stairs.
For most people with restricted mobility, it's the stairs in their home that present the biggest obstacle to living safely and independently. An Acorn Stairlift, fitted quickly and efficiently, can help them overcome this obstacle. Here's a recent review posted on leading independent online review site Trustpilot, which illustrates this scenario. Customer Miss Derrin Stock writes: "We urgently needed a stair lift fitted as my husband was being discharged from hospital early due to the coronavirus crisis.
"Acorn responded very quickly to this urgency and was able to assess our needs and install a lift in record time. We were very impressed with this remarkable service response and extremely relieved to have this important installation made which is so necessary for my husband."
As an essential business, Acorn has been working throughout the coronavirus crisis, installing new stairlifts for customers in compelling need (like Miss Stock) and maintaining those of our existing and valued customers. It goes without saying that we've also introduced a range of covid-19 health and safety protocols in line with Government guidance, which you can read about in more detail by clicking here, including the option of a 'virtual survey' of your staircase.
As well as helping those in urgent need, we've also installed stairlifts for people whose need has been highlighted by the requirement to self-isolate. The majority of our customers are in those groups at highest risk of complications if they catch the virus – the elderly and those with underlying medical conditions. In order to isolate themselves at home, but also remain safe and independent there, many have found an Acorn Stairlift to be indispensable.
Here's another recent Trustpilot review, this time from Mrs Valerie Greco West: "Really fantastic service. They came the very next day and the fitter was brilliant helping me understand how it worked. Have used it for two weeks now and I have the freedom of the whole house now."
You can click here to read more Trustpilot reviews, where Acorn has a five-star rating, with 94% of our reviews rated as 'Excellent' (81%) or 'Great' (13%).
So if you need a stairlift – either as a matter of urgency or to continue living safely and independently while in isolation – get in touch with Acorn Stairlifts today. You can call us on Freephone 0808 223 4871 or click the green 'Quick Free Quote' button at the top right of this page.