If you're at high risk from coronavirus – if you're over 70 or have any of a range of underlying health conditions ­– then the best protection you have against catching it is to continue to shield yourself at home.
Some lockdown restrictions are now beginning to be eased, but for those most at risk from covid-19 the official advice is clear – stay safe, stay at home.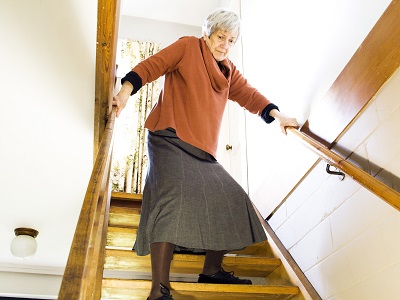 Of course, it's also important to remain safe within your home, especially from simple accidents such as trips and falls which could mean you having to leave home for hospital treatment. Older people and those with mobility problems are more prone to trips and falls and, unfortunately, the consequences can be more far-reaching the older we become.
As with most things in life, prevention is better than cure and there is a lot we can do to minimise the risk of trips and falls at home. If loss of balance or episodes of dizziness are becoming regular, you should seek advice from your GP, but for most people avoiding trips and falls is just a matter of taking a few simple precautions. Some tips include:
Mop up any spillages straight away, including wet floors if you come in from outside
Remove clutter from the floor and tidy away any trailing wires or cables. Pet toys are another common cause of trips and falls in the home
Use only rugs and mats with non-slip backing on hard floors such as tiles or laminate flooring
Use high wattage light bulbs or torches in darker areas of your home, so you can see clearly
Organise your home so that climbing, stretching and bending are kept to a minimum. The kitchen cupboards are a good place to start
Avoid walking on slippery floors in socks or tights
Don't wear long loose-fitting or trailing clothing that could trip you up, especially when climbing or descending the stairs
Wear shoes and slippers which fit well and are in good condition, especially the soles. Footwear which supports your ankle is a good choice
Take good care of your feet. People limping or hobbling on sore or painful feet are much more likely to trip
Poor eyesight increases your risk of a fall. If you need glasses to see clearly, make sure you wear them
Take special care when getting up in the night to go to the bathroom, which can become more frequent as you get older. Get up slowly and in stages to avoid sudden dizziness and make sure your route to the bathroom is well lit and free from clutter.
One place where you must be safe is on the stairs. A fall anywhere in the home can be serious, but on the stairs it could be catastrophic. If you don't feel safe on the stairs, or worry for a loved one's safety, the simplest solution is a stairlift. It enables you to move in safety and comfort between the floors of your home, without fear of trips, dizzy spells, breathlessness or failing strength.
As part of the medical and social care supply chain, Acorn Stairlifts has continued work throughout the coronavirus crisis, maintaining existing customers' stairlifts and installing new ones in cases of urgent and compelling need. For example, many people being discharged from hospital earlier than might normally be the case have needed a stairlift urgently so they can manage safely at home.
We've implemented a range of anti-covid working protocols which you can read about in detail here. In short, if one of our employees needs to visit your home to carry out work, he or she will do everything possible to minimise the risk of spreading the virus. In most cases, you won't even need to be in the same room.
A straight stairlift can be installed in about an hour and a curved one in just a few hours, and either type can be installed within days of you contacting us. If you're struggling with your stairs during lockdown and concerned for your safety or that of a loved one, give us a call today on Freephone 0808 223 4871 or click the green 'Quick Free Quote' button at the top right of this page.
We'll talk through your options and answer any questions you might have. Your survey and quote are entirely free and valid for up to a year, so you'll have time to make up your mind. If you want to see what other customers think, please click here to visit leading independent review site Trustpilot, where Acorn holds a five-star rating.