A growing army of 'social prescribing link workers' is being recruited by the NHS to help combat loneliness and isolation fuelled by the coronavirus pandemic.
Introduced to the NHS last year, social prescribing link workers spend time with patients to understand the underlying reasons for them seeking help. They then support them to get involved with activities such as sports teams, cooking classes or social clubs, or taking up life skill courses to improve their wellbeing.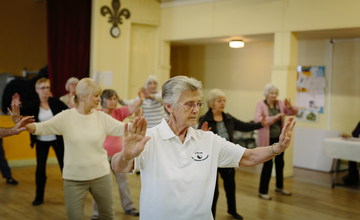 More than 1,200 link workers are already helping people improve their mental health and get more exercise by taking part in activities from gardening to ballroom dancing. Now the NHS is fast-tracking recruitment of an extra 500, who will work with family doctors and clinical staff working in primary care to provide personalised support to 125,000 more people per year.
One in five people who visit a GP surgery do not have a medical problem, but can benefit from meeting others or adopting a healthier lifestyle. For such people 'social prescribing' – prescribing social activities or supported lifestyle changes instead of or alongside medication – can help address the underlying issues which led to them vising the doctor.
As part of its Long Term Plan, the NHS was committed to employing 1,000 social prescribing link workers by March 2021, with that target already surpassed. Now, with the coronavirus pandemic compounding loneliness, isolation and mental health problems for many people, the NHS is providing extra funding to groups of GPs to allow them to go further. It means that more than 400,000 people a year can benefit from the additional support that link workers can provide.
Nikki Kanani, a London GP and NHS medical director for primary care, explained: "Link workers have been front and centre of the NHS response to Covid-19, helping some of our most vulnerable people with everything from accessing vital medicine to relieving loneliness during the lockdown.
"As the NHS continues to support Covid patients, while offering its usual world class care, link workers will remain vital, helping to improve people's quality of life and emotional wellbeing and keeping them healthy."
Social prescribers are just one way the NHS is strengthening primary care, with more people also training to be a GP than ever before. In all, 26,000 additional staff are being recruited to roles supporting networks of family doctors over the coming years, meaning that people can access a wider range of care and treatment closer to home.
As well as social prescribing link workers, local doctors' surgeries will share access to advanced paramedics, mental health therapists, clinical pharmacists and pharmacy technicians, dietitians, podiatrists, occupational therapists and other vital support staff.
With lockdown stopping most social activities, many social prescribers have had to adapt their approach, working closely with local groups and volunteers to co-ordinate support for vulnerable patients, such as check-in and chats, food parcels and medicine deliveries.
James Sanderson, Director of NHS Personalised Care said: "There is no one size fits all approach to a person's health, which is why by 2024 the NHS will support 2.5 million people with long-term conditions to be actively involved in their own care and improve their long-term wellbeing.
"By putting people in contact with services and activities that matter to them – from cooking classes to walking football – they will not only be able to develop new skills, but will also be able to improve their health and wellbeing."
Chairwoman of the National Academy for Social Prescribing, Professor Helen Stokes-Lampard, said: "Link workers are an excellent new addition to the primary care team and are already having a great impact in helping people live their best lives."