Thousands of patients with cancer have had chemotherapy delivered to their doors so that they can more safely receive treatment during the coronavirus pandemic.
Up to 10,000 chemo home deliveries were made over three months at the peak of the outbreak, avoiding the need for patients to venture out and risk infection when their immune system was low.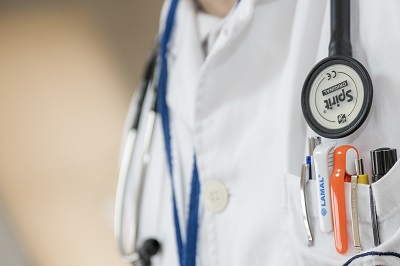 The drops are part of the COVID-friendly treatments introduced in response to the pandemic, which have helped ensure that 85,000 people could start treatment between March and June. Latest data shows cancer referrals beginning to recover to pre-pandemic levels, addressing fears that some people with symptoms were not seeking the help they need.
During the pandemic, NHS staff including community nurses and pharmacists­ have been working together with trained volunteers to drop off the life-saving medication. On arrival at a patient's home, they ring the bell then step back at least two metres, identify the patient and make sure they have everything they need.
This system has been in operation across the country. For example, in south London, Guys and St Thomas' NHS Trust has been carrying out up to 500 deliveries a month, while in Dudley, in the West Midlands, chemo deliveries increased by 46% during the pandemic, with 440 treatment packages sent to patients' homes.
In Torbay, Devon, almost 900 chemo treatment packages were sent to people with cancer, while in the North West, the Clatterbridge Cancer Centre has used NHS volunteers to make more than 900 deliveries across Merseyside. Hospitals have also significantly increased the use of 'chemo at home', with local pharmacy teams and community nurses providing the service to reduce cancer patients' risk of exposure to the virus.
These 'chemo doorstep drops' are just one of a series of measures aimed at protecting vulnerable cancer patients from contracting coronavirus. Others inclurde the rollout of COVID-protected cancer hubs for treatment and introducing alternative 'COVID-friendly' cancer drugs. NHS England is spending £160 million on drugs that mean patients do not have to go to hospitals for regular checks and treatment.
Cassie James (58), from Southport, has stage 4 breast cancer and since March has received her cancer treatment at home from specialist chemotherapy nurses at The Clatterbridge Cancer Centre. She said: "Before lockdown, I'd been going to hospital every three weeks for my cancer treatment. I'm on targeted therapies that are delivered via a drip and the whole process took about six hours, including two to three hours travelling there and back.
"Now I have my treatment at home and I absolutely love it. The home treatment team from Clatterbridge have been fantastic and my treatment is done and dusted in a couple of hours. You build a really strong bond with the nurses because they can sit down and chat to you. It's more personal and I feel much more relaxed because I'm in my own home. It has made a big difference."