One of the most hazardous places in the home is the bathroom, especially as we become less mobile or prone to slips and falls.
Bathrooms are filled with hard surfaces such as tiling and ceramic fittings. Many of these surfaces become slippery when wet – even more so when soap is added to the mix – posing a potential hazard to anyone who is unsteady on their feet.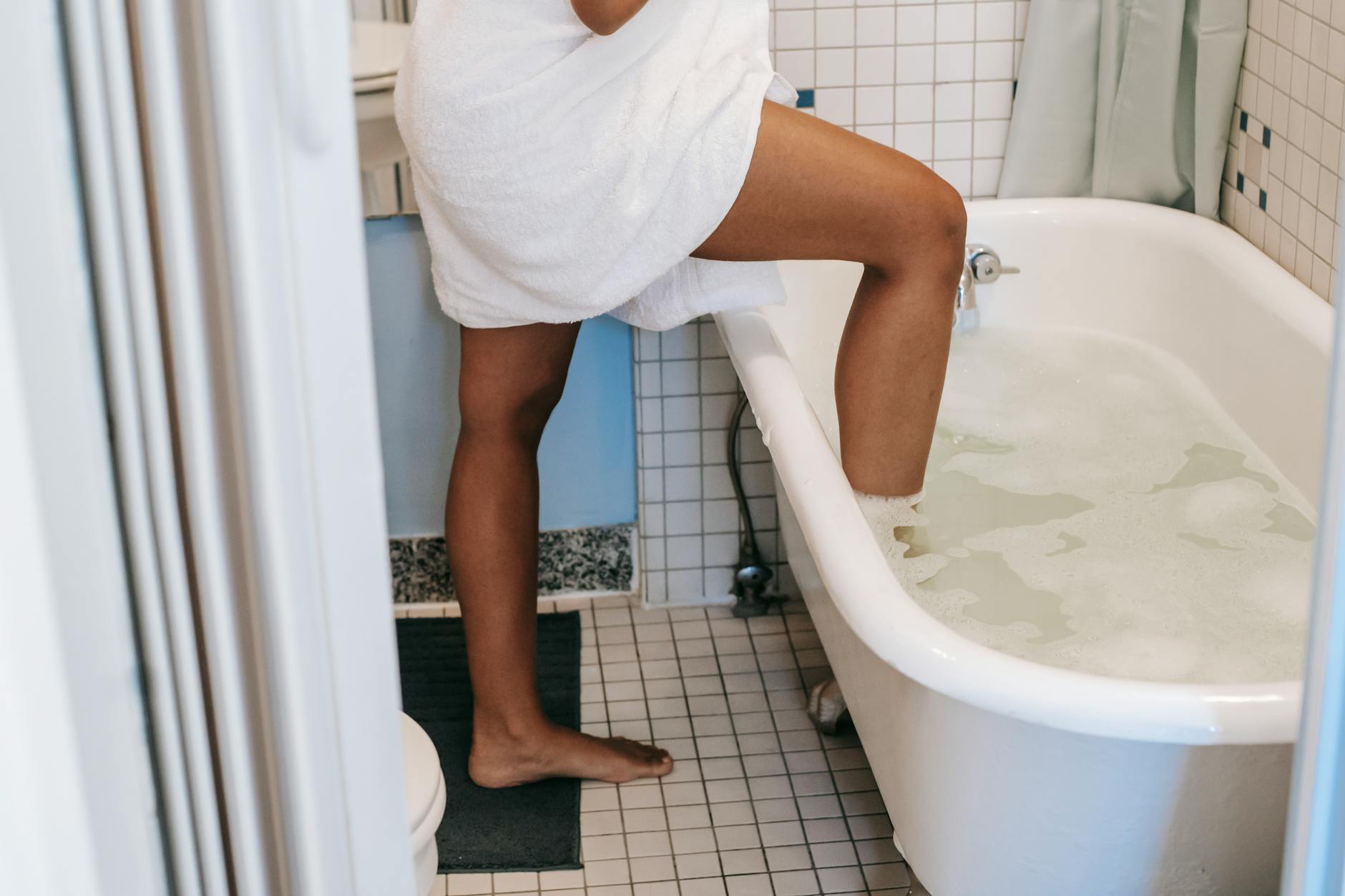 Climbing in and out of a bathtub becomes a challenge for people with mobility issues, but those prone to fainting or dizzy spells are also at risk from the hot, steamy atmosphere in bathrooms. Every year thousands of people are injured from fainting or falling in the bathroom.
One fundamental thing to remember is not to lock the bathroom door, so if you do have an accident, those who come to your aid will be able to reach you easily. Instead get a sign for the outside of the door to indicate when the bathroom is in use, or simply leave the door open when it's not and closed when it is.
In addition, there are several aids you can install in your bathroom, depending on your specific needs. Here are the main ones:
Bath steps: Often height-adjustable and with anti-slip feet, these sit next to the bath and make getting in and out an easier two or even three-step process.
Bath seats: These sit in the tub so you don't have as far to lower yourself or to stand up. While you're not as fully immersed, you can still wash yourself effectively, especially in combination with a hand-held shower attachment. Various types are available.
Bath boards: These simple devices run across the top of the tub and help you transfer in and out in a multi-step process: Sit on one edge of the board then shuffle across to the centre, lift your legs over the rim and into the tub, so you are sitting over the tub with your feet in the water. Grip the rims or grab rails and ease yourself from the board into the tub. Reverse the process to get out. Various designs are available, including heavy duty models.
Combined bath board and bath seat: Many people use a bath board in conjunction with a seat. Some retailers supply a product which combines both in a single piece of equipment.
Bath lifts: All the above aids still require enough body strength to lower yourself into the tub and push up out of it. Bath lifts do that work for you by gently lowering you down and raising you up again. Most are electrically powered by rechargeable batteries in a detachable hand control. They vary in type and cost and most incorporate a system for transferring from the rim of the tub onto the seat before operating.
Grab rails: To give you something firm to grip for support and leverage getting in and out of the bath. They include short rails fixed to a wall, specialist handles which attach to the tub, foldable rails which run across the top of the tub, or full-length floor to ceiling support rails.
Cushions and supports: for extra support and non-slip comfort once you're in the tub.
Anti-slip mats: Available for both inside and outside the bathtub, these affordable accessories safeguard against slipping while stepping in and out. Another option is anti-slip strips or discs which stick securely to the floor of the bathtub.
Temperature and water level indicators: To ensure the bath water isn't too hot or the tub too full, so it won't scald you or spill over when you get in.
Accessible 'walk-in' baths: From full-length tubs to more compact 'sit baths' with a built-in seat and shower attachment, these have a door which opens to allow easy step-in access but is watertight when closed and the bath is full. The bath must be empty when you get in so extra care is needed about water temperature when filling.
Medical alert/alarm: Though not strictly a bath aid, these emergency response devices can be a lifesaver, especially if you suffer a crisis while alone in the bathroom. Worn about the body as a pendant or wristwatch, they allow the user to summon help at the push of a button. Most are waterproof or water resistant and while you wouldn't want to submerge one in the bath, you could keep it within easy reach. Some Personal Emergency Response Systems let you locate an additional emergency button next to the bath or in the shower.