A stairlift is a long-term investment which should give you many years' reliable service and enable you to remain living safely and independently in your own home.
With that in mind, it's important to look ahead when buying your stairlift and consider its ongoing maintenance and aftercare. That's just one of the reasons why buying an Acorn Stairlift is a sound investment. We won't sell you a stairlift then walk away ­– we'll be there to expertly service and maintain your stairlift for as long as you need us.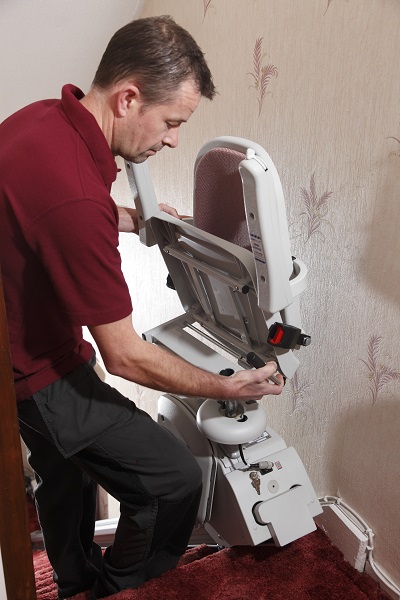 Today's stairlifts are a complex machines, with mechanical and electronic components and moving parts. Acorn Stairlifts are known for their reliability, but like any machine they benefit from routine maintenance and servicing to keep them in good working order. If something does go wrong and you rely on your stairlift, then you also need the peace of mind that comes from knowing an emergency repair will be quickly and expertly carried out.
Acorn has a nationwide network of service engineers, highly trained and employed directly by the company. The only way to maintain the highest standards is by using our own people, trained in-house and experts in every aspect of our award-winning straight and curved stairlifts.
If you experience a problem with your Acorn Stairlift, you can call our dedicated helpline 365 days-a-year. In many cases, the problem can be identified and fixed over the phone using the diagnostic display which is a feature of Acorn Stairlifts. If not, then an Acorn engineer can be promptly sent to your home for a hands-on investigation and repair.
Acorn Stairlifts are supplied with a comprehensive 12-month manufacturer's warranty, covering the costs of any callouts, parts and labour for your first year of ownership, plus your first annual service. We strongly recommend that your stairlift is serviced every 12 months by one of our skilled technicians to ensure its optimum trouble-free operation.
As well as the standard 12-month warranty, Acorn offers a range of extended warranties and annual service agreements designed to suit all budgets. As well as including the recommended annual service, these provide the assurance and peace of mind that should anything go wrong, priority attention is just a phone call away, 365 days-a-year.
Higher levels of cover include all callouts, labour and replacement parts, including the rechargeable batteries which power Acorn Stairlifts. It means that with a single payment you can enjoy the peace of mind that comes from knowing your stairlift will be expertly serviced, maintained and, if necessary, repaired or upgraded, so you can continue enjoying the freedom of your home.
An extended warranty or service agreement is the most cost-effective way to cover stairlift maintenance costs and protect your investment by keeping it in tip-top condition to extend its working life. It also ensures you can call on expert help quickly in the event of a breakdown.
To find out more about Acorn Stairlifts and how we can continue to look after your stairlift for years after it is installed, call us today on 0808 223 4871.