As your parents or other close relatives grow older, they might need more practical help and support at home.
It could mean running occasional errands, more regular shopping trips, picking up medication, helping out with modern technology, a little assistance with cleaning or keeping the garden in order. Throughout the coronavirus pandemic, many older people have had to call on loved ones for extra help while they've been self-isolating or shielding.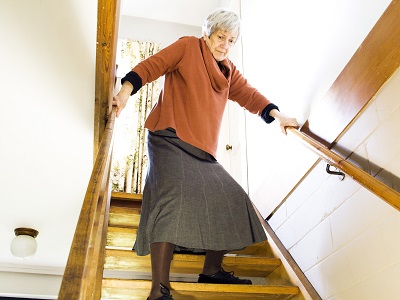 Taking care of your parents and elderly relatives in later life is ingrained and expected in many societies. After all, they looked after you when you were too young or inexperienced to go it alone, so it's only fair that they can call on your help when they need it.
In the UK, many elderly parents are reluctant to ask for help from their grown-up children. It's something to do with the British 'stiff upper lip' and 'not wanting to become a burden'. Yet in truth, most grown-up children are only too happy to help their parents out, repaying some of the loving care and kindness they've received throughout their lives.
The trick is, spotting when your parents need help and, in some cases, persuading them to accept it!
Here at Acorn Stairlifts, a large number of enquiries for a new stairlift come not from the people who will use it, but from their grown-up children who are worried for a parent's safety on the stairs. It's very often the sons and daughters of older people who first notice just how much their parents are struggling to get around, especially going up and down the stairs.
When diminishing mobility is a slow and gradual process, your parents might not realise how much it's affecting them. Even if they do, they might consider that getting a stairlift is 'giving in' to the problem, or surrendering part of their independence to advancing years.
In reality, investing in a stairlift isn't about 'giving in' to a growing problem; it's about finding a solution to beat it. And relying on a stairlift isn't surrendering your independence – it's protecting it. People are living longer and most want to remain living independently in their own home for as long as possible.
A stairlift helps achieve that, by eliminating the obstacle of stairs and the danger they can pose. Its number one benefit is to keep someone safe on the stairs, and in doing so it enables people to remain living independently at home for longer and able to access and enjoy all of their home.
Some older people worry about the cost of a stairlift, but it could be much less than they imagine. Acorn produces around 70,000 stairlifts per year at its UK factories. That economy of scale, combined with selling direct to the consumer with no 'middlemen' involved, means we keep our costs as low as possible and pass on the savings to our customers.
In any case, learning the exact price of an Acorn Stairlift tailor-made for your parents' home and their mobility needs won't cost a penny. Acorn offers a free, no-obligation home survey, in which one of our stairlift experts will measure and photograph the stairs and speak with the homeowner about their mobility needs.
Based on the information gathered, we provide an accurate all-inclusive quote, with no hidden extras or unexpected fees. The quote is valid for up to a year, giving you time to make up your mind.
Some older people are reluctant to dip into their savings, instead wanting to pass them on to their loved ones. The irony is that their loved ones would much rather they invested part of the money in improving their daily quality of life and safeguarding their wellbeing at home.
If you'd like to know more about how an Acorn Stairlift can help someone you care for, click on the 'Get a Free Brochure' or 'Quick Free Quote' buttons at the top right of this page. Alternatively, give us a call on Freephone 0808 223 4871.