Not too long ago you could pretty much sum up the entire school curriculum in a single phrase – "the three Rs".
It stood for "reading, writing and 'rithmetic"… which doesn't really bear close scrutiny, since two of "the three Rs" don't even start with 'R'! Nevertheless, like all the best phrases, it caught on and was widely used after being coined in a speech given by William Curtis MP in 1795.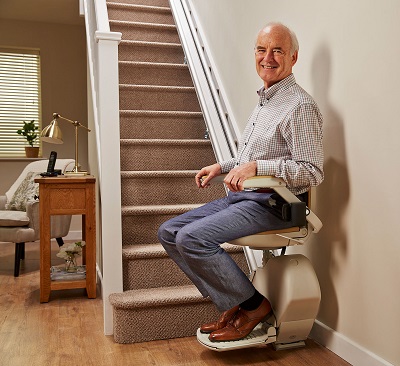 You'll still hear people talk about the 'three Rs' as the foundation of a sound education, but did you know that an Acorn Stairlift can also help with the three Rs? Here's our own version of what the famous phrase means could mean to you and help enhance your quality of life:
The Acorn Stairlifts 'Three Rs'
RETAIN your independence. Some people think that getting a stairlift means 'giving up' part of their independence, but they couldn't be more wrong. The truth is, an Acorn Stairlift safeguards your independence by eliminating the risk of a potentially devastating fall on the stairs.
The real threat to your continued independence comes from reduced mobility. It could be sudden, after an accident or illness, or more gradual, simply as part of getting older. Whatever its cause, reduced mobility puts you at increased risk of a fall and thereby undermines your independence.
Fortunately, you can fight back. Various mobility aids reduce your risk of a fall and protect your independence, none more effectively than a stairlift. Having a fall is never good, but if it happens on the stairs it could be catastrophic. It could take months to get back to normal, if you ever do.
By eliminating the risk of falling on the stairs, an Acorn Stairlift helps you retain your independence, now and for the years ahead.
REMAIN in the home you love: For some people, the stairs in their home become such an impossible obstacle that they consider moving to a bungalow, ground floor flat or sheltered accommodation, despite all the stress, upheaval and expense it entails.
But you don't have to leave the home you love – a home filled with memories and surrounded by good friends, neighbours and community connections. There's a much simpler and cheaper solution.
An Acorn stairlift effectively turns your two-storey home into a bungalow by removing the obstacle of stairs. It lets you can stay in the home you love, free from the worry of having to get up and down the stairs.
REGAIN the freedom of you home: When the stairs become difficult, many people start to use them less rather than seeking a long-term solution. It begins with putting off climbing the stairs until you really have to, planning your day around how often you'll need to go upstairs, or asking others to 'pop up' and fetch something for you.
You might reach the point where you hardly ever go upstairs during the day, using downstairs toilet facilities if you have them, or a commode. For some people the stairs become such an obstacle that they stop using them altogether, confining themselves to just one floor of their home. But why give up at least half your home when you don't have to?
An Acorn Stairlift means you can continue using all of your home all of the time, without the worry or pain of having to struggle up and down the stairs.
● For more information on how Acorn Stairlifts can help you master 'the three Rs', call us on Freephone 0808 223 4871 or click on the 'Get a Free Brochure' or 'Quick Free Quote' buttons at the top right of this page.