Don't Miss the Magic! Include Everyone in the Family Festivities
Building messy gingerbread houses that crumble to pieces and licking off the sticky, white icing glued to your fingers. Deciding whether to decorate your bare tree with colored lights, white lights, popcorn, or garland. Singing your favorite Christmas carols at the top of your lungs. Gathering around the fireplace to watch your favorite Christmas movies. No matter what your family holiday traditions are, everyone deserves to be able to participate and enjoy the merry magic that comes during that special time of the year.
Whether you are Santa Clause up on the rooftop stringing lights or simply a spectator, Acorn Stairlifts can help get your whole family involved in the fun—even those that have mobility restrictions. If you want to experience the pure joy of watching your grandchildren rush down the stairs on Christmas morning and tear open presents again or indulge in the excitement of going outside to marvel at the gorgeous Christmas lights adorning you and your neighborhoods' homes, a stairlift can help grant all of your biggest holiday wishes. Whatever stairlift it is you need for your home, indoors or outdoors, straight or curved, we've got you covered this season.
You Have Choices: Add a Stair Lift to Your Christmas List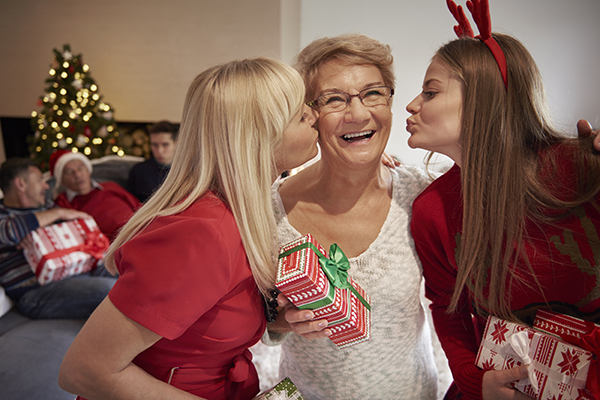 For your indoor needs, we offer the Acorn 130 Stairlift (the stairlift designed for straight staircases) and the Acorn 180 Stairlift (the stairlift designed for curved staircases). Both stairlifts include safe and secure safety belts that keep you fastened during your sleigh ride and are attached directly to the stairs, rather than the wall, making installation a snap. Regardless of whether your staircase is wide and winding or straight and narrow, Acorn Stairlifts adjusts the lift to fit your unique home and needs.
Our outdoor stairlift includes the same safety features as the indoor ones, is attached directly to the staircase, and is equipped with a weather resistant outdoor cover that can stand up to even the wildest winter wonderlands.
Even if you're not sure which stairlift would fit your needs the best, Acorn Stairlifts offers free, no obligation home surveys and quotes. If you do decide to install a stairlift, installation is quick and easy. Our experienced engineers will be in and out of your house in a whip like Santa Clause on Christmas Eve, leaving you with the best gift of all—the gift of independence, inclusion, and mobility.
Don't let you or your loved ones miss out on the holiday magic this season. The holidays are a time of love and warmth that everyone deserves to be a part of, regardless of age or ability.