Acorn Stairlifts has earned its amazing reputation not only from its high demand, shipping bespoke stairlifts to over 80 countries worldwide, but through its collection of awards, accreditations, and testimonials from satisfied Acorn customers. From awards earned for our high-quality stairlifts, to our quick and knowledgeable installers always ready for any stairlift repairs, to our superior customer service, Acorn has been recognised and praised for all of the unique qualities that make Acorn Stairlifts stand out from its competitors but don't just take it from us. Hear from real, satisfied Acorn customers who explain why Acorn Stairlifts is the world's number one stairlift provider.
Fast and Friendly Stairlift Customer Service
"We needed a stairlift in a hurry and within days of contacting the company, Keir came to our house to advise us; and give us a quote. By the end of the following week the stairlift was installed by Max and it transformed our lives. We are very impressed that Acorn can fit a stairlift within a week; and that we had such good service from start to finish with help from three very pleasant, helpful and professional people. Many thanks for helping us at a time when we needed a stairlift quite urgently. You are a company to be recommended. From two very grateful customers."
-J&P Hodgkinson, Oxfordshire
"Dear Everyone at Acorn, I just want to say how impressed and delighted I have been with your company. The speed and efficiency when the stairlift was fitted was marvellous and so was the service when it was taken down to be stored recently. Everyone that I have had dealings with has been helpful and friendly and I am very grateful for such help. With best wishes."
-W. Davis, Middlesex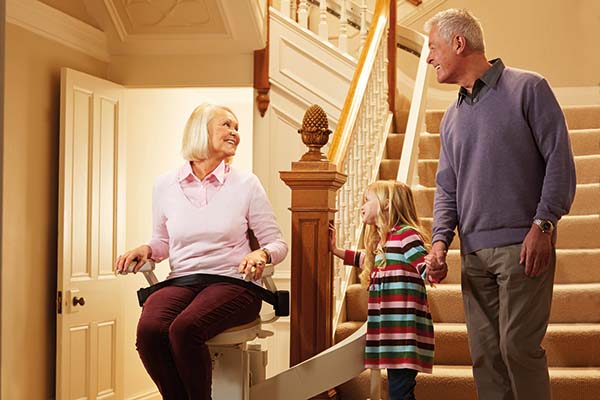 "Just want you to know that Acorn's service was faultless from rep's visit to lift fitting completed in 3 days...amazing service from rep to Max, the installer. Would not hesitate to recommend you to others. Thanks to you all."
-J & C Dandy, Essex
Quick, Mess-free Stairlifts UK Installation
"I would just like to say how delighted we are with the stairlift installed on 11 May at a day's notice. This arrived just in time for my husband coming home from hospital and without which we could not have managed. The Engineer who installed the lift was most accommodating with all the activities going on around him by the hospital staff. It is the best money we have ever spent!"
-Mrs. Glaister, Cumbria
"The installation engineer arrived just after 1-00pm, and without any disruption to us had it installed and working in just over 1 hour. He demonstrated how it operated, and all the safety features. The service provided by Acorn, from our initial enquiry, to installation and working has been excellent, and we have no hesitation in recommending this company. THANK YOU."
-R&M Ibbotson, South Yorkshire
"I would like to say Acorn were excellent, I requested a brochure online in the morning and within 15 minutes I received a phone call from Sam with helpful advise about the stair lifts. A surveyor arrived the same afternoon and we discussed the installation and was given a quote which I accepted and placed an order. 48 hours later the lift was installed which only took about an hour or so. The installer was most helpful and did an excellent job. Good customer service, top quality product, can't fault anything, well pleased with Acorn. I have already recommended it to a friend nearby."
-A. Harding, Bedfordshire
Life-Changing Lifts Well-worth the Money
"My life is so much better now. The engineers were so helpful in how it worked and there was hardly any mess THANKYOU!"
-S. Bray, Devon
"Dear Acorn, I would just like to say a heart-felt thank you for amazing service from your team – Alison who fielded my initial enquiry only yesterday morning, Clive who visited and surveyed my father's house and helped us find the best solution (at just a couple of hours' notice), and Kevin who installed it this morning. I am thoroughly impressed by the care, concern and superb professionalism of the process and your staff. It has made an immediate difference to the quality of my father's life and his ability to continue enjoying his home and independence."
-G. Lane, Surrey
Get the Exceptional Stairlift Experience and Choose Acorn Stairlifts
Now that you've heard real-life examples of how Acorn Stairlifts continues to lift peoples' lives every day, you can make the life-changing decision to trust the testimonials and become one of Acorn's countless happy customers. Click here to get your free, no-obligation quote and home survey to get started on securing your dream stairlift.