We've already told you the many reasons why you should lift your life with one of Acorn's life-changing stairlifts—from our in-house manufacturing, to our dependable and friendly customer service, to our impeccable product quality—but, what is the reason why Acorn Stairlifts cares so much about providing the best stairlifts and service? The answer is simple. It's because of you.
The core of the company Acorn Stairlifts revolves around the mission of providing mobility, independence, freedom, and confidence to people all over the globe with the help of our high-quality stairlifts. With such a high number of people around the world who suffer from some type of mobility impairment, disability, or the natural effects that come with the ageing process, Acorn wants to lend a helping hand, helping them reach new heights.
Acorn knows that these people are not just numbers. They're our grandmothers and grandfathers, husbands and wives, sisters and brothers, and children. They are the people we love and care about. They deserve to live their lives to the fullest, despite their mobility limitations, soaring above the obstacles that once burdened them and not missing out on making more memories with their families. In fact, this is how Acorn Stairlifts began—with a loved one who needed some help and a man that wanted to give her only the best.
How Acorn Stairlifts UK Started
Acorn Stairlifts started almost 30 years ago in 1992 with a family just like yours. The founder's mother had just purchased a refurbished stair lift and asked him to help her with some repairs. After repairing his mother's stair chair lift, his mother's friends, who had also purchased stairlifts, asked him to repair theirs as well. This gave Acorn's founder the idea that there must be plenty of other people out there whose stairlifts weren't meeting their needs or the high standards that they deserved.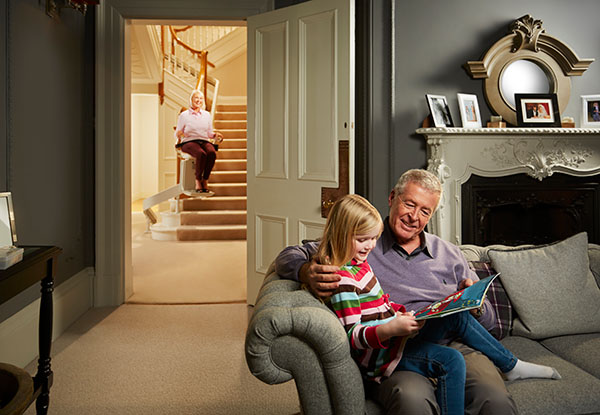 This is why Acorn remains so passionate about what we do. We wanted to provide people's precious loved ones with only the best stairlift products, service, and aftercare so that they would be able to remain mobile and independent, all while staying in the homes that they loved. This is why Acorn Stairlifts sets out to make our stairlifts accessible and user-friendly for everyone, regardless of their limitations.
How Acorn Stairlifts Strives to be the Best Stairlift Company in the World
Acorn Stairlifts is currently the only stairlift company in the world to have earned the Ease-of-Use Commendation from the Arthritis Foundation in all of its stairlift models. This award, given to us by a panel of arthritis experts, was earned through extensive testing with our simulation subjects being nonother than real people living with arthritis. From opening the packaging of our product to taking a ride in our lift, the Arthritis Foundation determined that every step of the product testing was not only manageable for people with Arthritis, but was easy-to-use, even for people suffering from a severe form of the disease.
This award not only proves that Acorn Stairlifts is a pioneer in the industry, striving to provide its customers with only the best stairlift experience, but it also demonstrates how hard we work to make our product user-friendly for all. With Acorn's innovative engineering, our products are constantly evolving to keep up with the latest technology for all of our customers such as backup stair lift batteries, folding footrests, hinged rails, stair lift sensors, etc. Yes, Acorn stair lifts are for seniors, but they're also for the disabled, people recovering from an injury, or really anyone that struggles with mobility issues.
Furthermore, Acorn's stair lift installation is quick, and it is stress and mess-free. Acorn stairlifts are always attached directly to the stairs and never the wall so no messy modifications such as drilling or plastering are required. Because Acorn Stairlifts realises that each staircase is just as unique as the customer who buys it, our stairlifts are customizable and fit 99 percent of all staircases.
Contact Acorn Stairlifts to Claim Your Free Stairlift Quote Today
To start reclaiming your independence and mobility or help your loved ones live their lives to the fullest, look for an Acorn Stairlifts near you and contact us today. Acorn offers each person even considering investing in a life-changing lift a free, no-obligation quote and home survey in which an Acorn representative will provide you with personal stairlift advice and your stairlift price.
Choose to give you and your loved ones the best by lifting your life with an Acorn stairlift.