They tend to our aches and pains. They listen to our moans and groans, providing us with encouragement and support. They dedicate their lives to healing the sick and helping those in need. Are they angels? Actually, they are none other than nurses.
Our nurses and caregivers graciously give and give, so it's time for us to give back to them, showing them how much we appreciate them this year on International Nurse Day. Read on to learn about the history and significance of International Nurse Day, 5 ways that you can show your nurses how much you value them, and how you can lessen the load that our caregivers carry with a stairlift.
Honouring Florence Nightingale—The History Behind International Nurses Day
International Nurses Day is celebrated every year on May 12 for a significant reason: This was the birthday of the famous Florence Nightingale, a British nurse credited with paving the way for modern nursing.
Florence Nightingale served as a noble nurse during The Crimean War, drastically improving the horrific hospital conditions for wounded soldiers, establishing order, utilising statistics in medicine, providing proper medical supplies, and significantly raising the standards in the nursing profession. She was smart and selfless, nicknamed "the angel of Crimea."
Remembered for her kind heart, brilliant mind, impeccable organisation, and problem-solving skills, Florence Nightingale was the epitome of what it means to be a dedicated nurse. Through the passion, hard work, and leadership she demonstrated throughout her life, she has inspired countless people to pursue their passion of helping others and become nurses as well.
5 Ways to Show Nurse Appreciation for Our Amazing Caregivers
1. Pamper Them and Prevent Nurse Burnout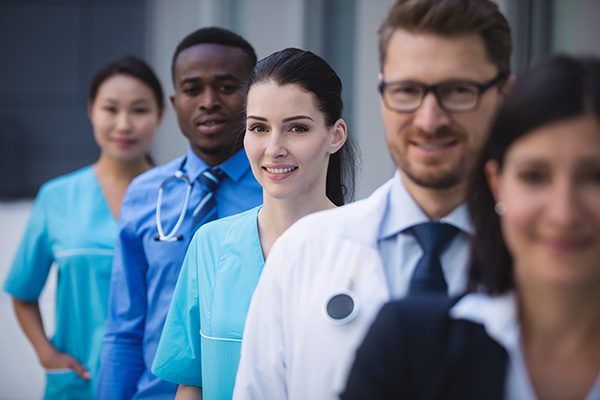 Nurses work long hours on their feet, dedicating all of their time and energy to taking care of others. From emotional exhaustion due to a stressful environment to physical fatigue from working hours on end with little rest, it is easy for caregivers to experience nurse burnout. Now it's time for us to take care of them. Pamper your nurses by rewarding them for all of their hard work with a professional massage, a relaxing day at the spa, a vacation, or even an uninterrupted nap. Allow your nurses to relax and recharge with some well-deserved rest.
2. Show Them They're Appreciated with a Heartfelt "Thank You" Card or Note
Sometimes the most meaningful gift you can receive from someone is just a "thank you." Nurses spend so much of their time pouring themselves into others and may feel like their efforts often go unnoticed, so it is meaningful when others take the time to acknowledge and thank them for all that they do. By writing a thoughtful, handwritten card or note expressing your gratitude for all of their hard work, you can make nurses feel as they deserve to feel—valued, admired, and appreciated.
3. Bring Them a Meal, Snack, or Caffeinated Beverage for a Pick-Me-Up
Constant caregiving around the clock can make a nurse justifiably hungry. Surprise them with a pick-me-up meal, snack, or coffee to refuel their bodies and fight fatigue during their long shifts. Nutritious foods and snacks such as eggs, chicken, berries, beans, oatmeal, fish, avocado, and nuts can provide a much-needed energy boost for nurses while they work. Satisfy their caffeine craving with some coffee or tea. Although being a nurse requires endurance, patience, and dedication, caregivers deserve sweet treats too. Bringing in a cake or basket of freshly baked goods is another effective and delicious way to show nurses how much we appreciate them.
4. Give Them a Present—Here's Some Nice Nurse Gift Ideas
Giving a nurse a thoughtful gift is a great way to show how thankful you are for their dedication. Give them a gift card that encourages them to buy something nice or take some leisure time just for themselves. Bring them vibrant flowers to brighten up the dull and dreary hospital setting and lift their spirits. Buy them a foot massager for their aching feet after a particularly long day of work or blackout curtains that block the sun for nurses that work night shifts. Even practical gifts such as water bottles, socks, comfortable shoes, scrubs, bags, and lunchboxes are appreciated, as they can make the everyday lives of nurses on the job more comfortable and convenient.
5. Put a Video Together of Coworkers and Patients Expressing Their Gratitude
A lot of nurses are in their profession because they have kind hearts, striving to make a positive impact on peoples' lives. Putting together a video compilation of all of their patients and coworkers expressing what a difference the nurse has made in their life is a meaningful and validating way of showing them how much they're appreciated. Seeing all of the lives a nurse has touched is the ultimate way of knowing that all of their hard work is worth it and their selfless purpose is being fulfilled.
Support Your Nurses, Caregivers, and Patients with an Acorn Stairlift
Nurses and caregivers dedicate their lives to helping us, so why not return the favor and help them out? Acorn stairlifts are dependable and reliable stairlift systems that help transport anyone that struggles to safely travel up and down the stairs to their destination. No longer will caregivers have to stress about helping their patients safely navigate a steep and slippery staircase.
Not only do stairlifts make our caregivers' lives easier by helping their patients, but they improve the lives of the users, as they can regain their mobility and ultimately experience more independence and freedom. Whether you have a staircase that's indoors or outdoors, curved or straight, Acorn has a variety of stairlift models customised to fit your home and needs.
Contact Acorn Stairlifts today to receive your free, no-obligation stairlift quote and home survey. Start making you and your caregivers' lives more carefree with the help of Acorn's reliable stairlifts.