Honouring the Queen's 70th Anniversary—The First Ever Platinum Jubilee Bank Holiday
History is being made this weekend, as Queen Elizabeth II will be the first British monarch ever to celebrate a Platinum Jubilee— or her 70th anniversary on the throne. In lieu of the usual three-day Jubilee Bank Holiday weekend, the celebration will be extended to four days to mark this once-in-a-lifetime occasion.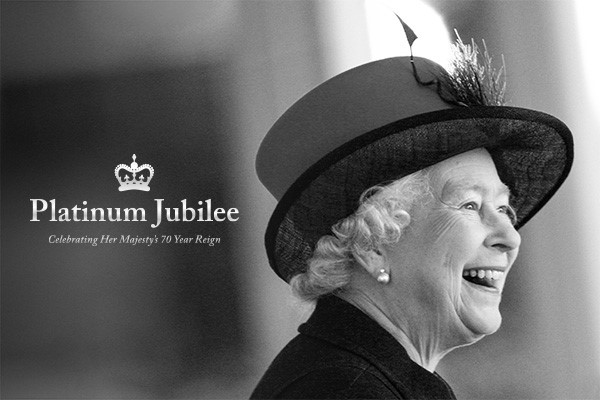 Beginning on Thursday, 2 June and continuing through Sunday, 5 June, the Queen will be honoured through a series of festivities.
The Platinum Jubilee Weekend Itinerary
Thursday, 2 June:
10 a.m.- "Trooping the Colour"—The Queen's Birthday Parade
Friday, 3 June:
A thanksgiving service held at St. Paul's Cathedral paying tribute to the Queen's reign
Saturday, 4 June:
Members of the royal family will attend the Derby
7:30 p.m.- Two-and-a-half-hour "Platinum Party at the Palace" concert at Buckingham Palace
Sunday, 5 June:
"Big Jubilee Lunch"
2:30 p.m.- Platinum Jubilee Pageant
How old is the Queen, and When Was The Queen Elizabeth's Coronation?
Queen Elizabeth II was coronated on 2 June, 1953 at 27 years old. Now, at 96 years old, she is the oldest reigning female monarch in world history.
2022 Platinum Jubilee Medals
Special Platinum Jubilee Medals will also be awarded to serving frontline members of the police, fire, emergency services, prison services, and the Armed Forces. Inscribed in the medal is the Latin phrase "Elizabeth II Dei Gratia Regina Fid Def," which translates to "Elizabeth II, By the Grace of God, Queen, Defender of the Faith."
Happy Platinum Jubilee from Acorn Stairlifts, and God save the Queen!