Fathers are our biggest protectors and providers—always supporting us through tough times and dedicating their time and energy to taking care of their families. They are the ones that teach us how to change the tires on our car, help us work out a challenging math problem, pick us up from the dirt and set us back on our feet, provide us with words of wisdom when we're unsure of ourselves, and love us unconditionally.
This Father's Day, shower your dad with love and learn how you can support him, just like he's always supported you, with these 7 sweet ideas that are sure to show him how much he means to you.
1. Bring Him Breakfast in Bed
Who doesn't love waking up to the smell of bacon? Serve your father a feast fit for a king with a bedside breakfast platter. Don't wake him up too early though. Remember that even a king needs his royal rest.
2. Give Him a Homemade, Handwritten Father's Day Card
There is something special about receiving something homemade. Knowing that someone put the time and thought into carefully crafting something just for you is something that money simply can't buy. Take the time to make your dad a homemade Father's Day card with a meaningful, handwritten note that is sure to show her how much thought you put into showing him you love him.
3. Relieve Him of All Responsibilities for the Day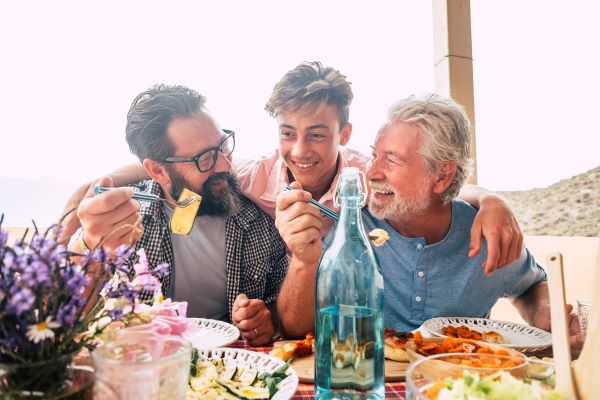 Fathers are always carrying some kind of responsibility on their shoulders, whether it is paying the bills, working, replacing the burnt-out lightbulbs around the house, or mowing the lawn. One of the kindest things you can do for your warrior father is to relieve him of his daddy duties and sentence him to a day of rest and relaxation. For the day, take charge of his usual chores—wash his car, pull the weeds, reset the circuit breaker, do his laundry, cook him a hot meal, grease up the creaky door hinge. The only thing dad should be lifting today is the remote to the telly.
4. Bake Him a Delicious Father's Day Cake
Cakes are for celebrating, and what better reason to celebrate than for having your amazing father? Baking a beautifully decorated cake is the perfect way to show your dad how much you appreciate him, not to mention a delicious treat for the whole family. If you're not the best baker or don't have enough time to bake and decorate a cake, don't worry. There's no shame in buying a professional cake. You can still ask the baker to customize it with a personal message like "Happy Father's Day" or "I love you, dad" that makes the cake even sweeter.
5. Plan a Fun Day Full of His Favourite Activities
Fathers spend much of their time as providers, dedicating their time and lives to their loved ones. Father's Day is the one day of the year that is all about them. Show your dad how much you care by spoiling him with a day packed full of his favourite activities. Whether he would enjoy kicking back and watching that big game or eating out at his favourite restaurant, allow him to guiltlessly indulge in all of his greatest pleasures.
6. Put Together a Father's Day Video Compilation of Friends and Family
Every father needs a reminder of how much they are valued and loved. Nothing says "I love you" like a heartfelt Father's Day video compilation of your family. Have each of your family members record a clip of themselves expressing their appreciation or sharing their most treasured memories with dad. Then, get your most technologically-savvy family member to put the clips together in a precious home video to play for your dad on Father's Day. This is a sure way to put a smile on his face and a tear in his eye.
7. Get Him a Meaningful Father's Day Gift
Shower your dad with meaningful gifts this Father's Day. Show him that you not only love him, but you know him as well by giving gifts that are unique to him. For example, while it may be easy to gift him with another tool kit, why not choose something special that is customised just for him?
Support the Fathers Who Have Always Had Your Back with a Customised Chairlift
There's no need to look any further for the perfect gift for your father. You can give your dad the support that he's always given you with one of Acorn's high-quality stairlifts. Acorn Stairlifts has a variety of customised chairlifts that will give your dad full access to the home he loves, as well as the confidence, independence, and mobility that he deserves.
Built to the highest standards, Acorn's stairlifts are worthy thrones that will smoothly and safely deliver your kings to their destinations. Acorn's sturdy stairlifts fit 99 percent of all staircases. This means that whether your home's staircases are straight or curved, long or short, indoors or outdoors, Acorn has a stairlift model that will fit your home and needs.
Installation is quick, mess-free, and stress-free because the stairlift attaches directly to the staircase and never to the wall. With Acorn's innovative installation system, no messy modifications such as drilling or plastering that compromise the style or structure of your home are necessary.
Claim your free, no-obligation stair lift quote and home survey today to gift your father with the independence and mobility he deserves.
Happy Father's Day!