Every Acorn Stairlift is pretty much one-of-a-kind, because it's custom-built to fit a particular staircase and meet the individual mobility needs of the person who will use it.
That's why Acorn Stairlifts are designed to be incredibly versatile, able to adapt to a wide range of settings while also being comfortable, safe and easy-to-use.
Having said all that, stairlifts can be divided into three broad types, which we'll look at in this blog. They are Straight Stairlifts, Curved Stairlifts and Outdoor Stairlifts.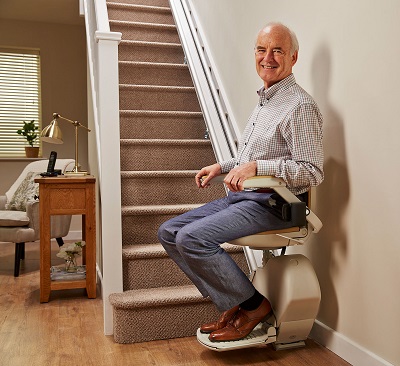 Straight Stairlifts: As you'll already have guessed, the names of the three types are determined by the setting for the stairlift. Straight Stairlifts are for straight staircases or flights of steps, with no bends, twists or turns from top to bottom. They are the simplest and cheapest type of stairlift because they use a mass-produced straight stairlift rail which only needs cutting to the right length.
The Acorn 130 Straight Stairlift is a direct descendant of its original Superglide model, although the design and operation is continually revised and refined to incorporate the latest technology. Acorn uses a single straight stairlift rail, made from very strong extruded aluminium. It is secured to the stairs, not the wall, so there's no need for messy and disruptive structural work – drilling through plaster and masonry – or for redecorating after installation.
The single rail design is neat and unobtrusive, taking up a minimum of space on the stairs. Similarly, the stairlift carriage (which is mounted on the rail and rides up and down it) is among the most slimline on the market. Its seat, arms and footrest all fold up out of the way when not in use, so other people in the household can still use the stairs.
A range of modifications are available for particular settings. One of the most popular is a short hinged section of rail at the bottom of the stairs. This means it can be lifted (manually or electrically) out of the way if the protruding rail would otherwise cause an obstruction or trip hazard at the foot of the stairs.
Curved Stairlifts: This type is for more complex staircases which go thorough bends or 'returns' and so are not suitable for a straight rail. Curved stairlifts cost more because a one-off stairlift rail has to be designed and manufactured to precisely follow the unique contours of the staircase it's intended for. Traditionally, customers had to wait longer for a curved stairlift while the one-off rail was fabricated, but not with Acorn Stairlifts.
We have developed the revolutionary FastTrack® modular rail system for our Acorn 180 Curved Stairlift, slashing customer waiting times. It uses a parts library of pre-made interlocking rail sections, each with a slightly different degree of bend or incline. A home survey of your staircase by a skilled Acorn surveyor dictates what sections are needed for your made-to-measure curved stairlift rail.
Those sections are then picked from stock and an Acorn installation engineer uses them to assemble a bespoke rail on site in just a few hours. It means you can have an Acorn 180 Curved Stairlift up and running in your home within a few days of placing your order, even 'next day' if urgency is essential. Again, the stairlift is designed to be unobtrusive, occupying minimum space and blending easily with your home's décor.
Outdoor Stairlifts: Again as the name implies, these are versions of their indoor cousins designed and built specifically to withstand the rigours of an outdoor setting. They're great for steps accessing a home or outbuilding, or for linking different levels of a garden, such as raised decking or a patio.
Acorn's Outdoor Stairlifts use special protective and anti-corrosive coatings on the rails and any electronic components susceptible to damp or temperature extremes. A special additive is added to the plastic covers of the stairlift carriage to withstand exposure to sunlight and the seat design is specifically for external use.
A fitted waterproof cover is supplied to protect the stairlift carriage when not in use. The stairlift can also be disabled (so others don't use it without permission) by a waterproof lockable key switch and removable key – like locking your car and taking the key out.
For more information about Acorn's range of stairlifts, call us free on 0808223 4871 or click on the 'Get a Free Brochure' or 'Quick Free Quote' buttons at the top right of this page.